I am generally going to be listing things in the random order I unbox them from storage. Not everything will appeal to everyone, of course, but I am sure most folks will find something they like (or need) from time to time. This is going to take a while. I am enjoying the process of unpacking - its almost like getting them all over again. I hope you enjoy discovering them again with me.
The first thing I unpacked was my set of Deros. These were released by Wootini and Strangeco back in 2005. I have all 6 versions from the original sculpt (my favorite). This includes the first Orange (brown) guy with red eyes (edition of 600); the Black Shadow Dero with red eyes (edition of 250).
In addition to those two, I have the following variants and exclusives: Dero Glow (limited to 50); the Invisible Dero (limited to 25, and available only with a set that included the other 3 Deros mentioned so far); Black with GID eyes; and Gold.
I am not sure of the edition numbers on the Black with GID eyes and the Gold (10?). If any knows, I would appreciate the information. Also, please let me know if I have any of my other information wrong.
I haven't decided whether I am going to list these all as a group, or individually. They are all brand new. The gold is open, but was never photographed or displayed - the original one that I did photograph started to ooze and turn green - Strangeco corrected the problem and sent me a new one which looks perfect. The rest are all still in sealed bags inside the boxes.
Here are a couple of stock shots from the Strangeco website: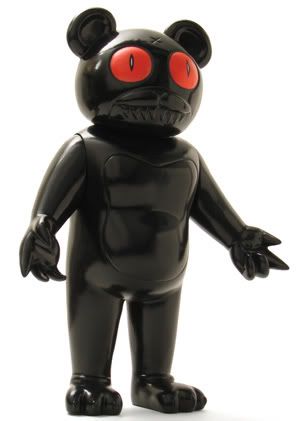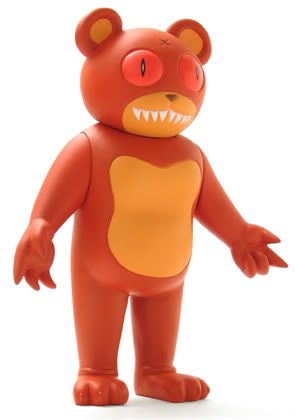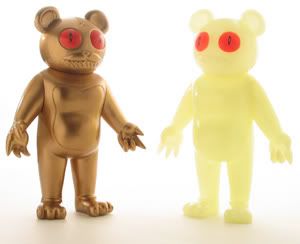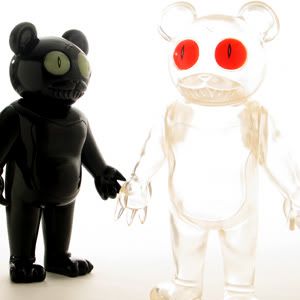 I can see that the box I unpacked also has a set of Touma Talons (I think I have all but one color) and a red Hotchacha by Baseman, so those will probably be up next.